Waller Truck's Road Essentials
Waller Truck's Road Essentials
For every trek there's important equipment you should bring when you hit the road. Let's take a look at some of the most crucial of these essentials.
First Aid Kit
One of the most important items you can have in your cab is a first aid kit. From a headache to a sprain or worse, ensure your first aid kit is fully stocked before each run. These are important not only for your own use, but also if you come upon another driver that needs help. From antacid tablets to full on wound dressings, a first aid kit is crucial. Be sure to get one that meets federal OSHA requirements.
Flares, Reflective Vest & Triangles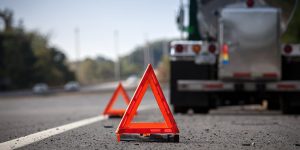 A roadside emergency can be treacherous, especially at night or in a construction zone. Ensure you have a Class 2 high-visibility safety vest, a set of three reflective triangles, and emergency flares. These items are lightweight and the vest and triangles fold to store easily. You never know when an emergency will strike, but you'll be glad to have your gear in place if one does.
Toolbox
Some vehicle repairs you can perform yourself and save time on the road. That's why a toolbox is so important. The tools in the box and the box material can vary, depending on your needs. Make sure to include a flashlight and extra batteries in a sealed container for any nighttime repairs.
Clothes & Footwear
Clothing needs will change depending on the season and climate. Ensure you have enough clothes for each day (unless you plan to do laundry on the road!).
Gripping the wheel for multiple hours each day can cause water blisters. In addition, winter weather can be frigid depending on where you are in the country. So be sure to have at least one pair of truck driving gloves for protection and warmth.
While driving you should wear a pair of comfortable, yet protective, shoes or boots. A pair of flip-flops will keep you from getting athlete's foot or plantar warts from a truck stop shower. You should never wear flip-flops to drive, but they are a must-have for public shower areas. Also, due to the sedentary life of a trucker, you may want to bring a pair of athletic shoes for walking or running during off hours.
Route Optimizer
Route optimizer apps will save you money on gas, plus wear and tear on your vehicle. You never know when you may need to change your route due to weather, accidents, construction slow downs, etc. A route optimizer is preferable to GPS because the apps are updated more often.
Chargers
In this day and age of internet and technology, it's difficult to go OTR without your phone and chargers. Ensure you have chargers for all electronic equipment you bring into your truck. Many of these will help you perform your job more efficiently. The remainder will allow you to keep in touch with family and friends while you're gone.
A word about safety – if you need to speak on your cell, have a hands-free dash-mounted holder so you can focus on the road.
The Basics
If your cab has a sleeper, you may find it easier to roll out a sleeping bag than pack sheets, a blanket, and a pillow. The main objective is to get a relaxing night's sleep so you can drive safely in the morning. Also, if need be, bring a few pairs of earplugs or pack some noise-cancelling headphones to drown out road noise from the traffic outside your cab.
It may go without saying, but we want to say it anyway – pack the basics. Buy travel size toothpaste, dental floss, mouthwash, deodorant, shampoo, conditioner, shaving foam, and soap. Bring along your toothbrush and razor, too!
Waller Truck Co., Inc. is hiring now. We offer:
Competitive salaries
Insurance benefits including medical, dental, and vision
More time at home
2015 and younger Kenworth T680s
Almost entirely no touch, drop and hook loads
All trucks maintained by a maintenance company
You'll need to pack your truck yourself though! Apply today or call toll free 1-800-821-2196. We look forward to hearing from you.