Logistics Services
Logistics Services
Waller Truck Co. provides numerous services that range from shipping or shuttling to logistics and brokerage. These services ensure that we can accommodate the needs of all our valued clients.
Waller has become a preferred carrier across the Midwest by focusing on excellent service at competitive prices, with customer satisfaction being the ultimate goal. When you work with Waller, you will have access to over 200 tractors and 650 dry van trailers. All are maintained in first-class condition. We provide OTR, shuttle service, and trailer hostling for a variety of industries.
Don't use dry vans? No problem! Our brokerage division is our way of ensuring ALL of your needs can be accommodated using our fantastic service. Our brokerage division covers all of the continental 48 states, and utilizes all forms of equipment, so that regardless of what you need we have the service to make sure your shipment is delivered safe, secure, and on time.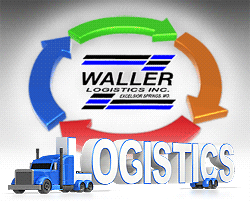 Contact
Email:
Phone:
(816) 629-3400
Fax:
(816) 629-3464
Toll Free:
1-877-250-9995