Waller Equipment
About Our Trucks
Our top-quality fleet includes more than 200 Kenworth T680 tractors and over 700 53-foot dry van trailers. Our trucks are spec 'ed with driver comfort in mind, including fully automatic trucks, APUs, and tablet based digital logs. All our trucks include Bendix Wingman Fusion system that improves driving safety.
We are a safety driven operation and have been awarded the Platinum Award for Safety the last 6 years from Great West Casualty Insurance Company. Our Corporate Headquarters is located just 20 minutes Northeast of Kansas City in Excelsior Springs, Missouri. The facility allows Waller Truck to offer premium service to our customers and attractive amenities to our drivers. This includes an on-site 7 bay repair facility, fueling station, truck wash and an on-site 24-Hour Drivers lounge w/ free Wi-Fi, showers, laundry room and cable tv, all conveniently located next to a 24/7 Walmart.
We're always looking for new drivers to join the Waller team. Click here to fill out an application today!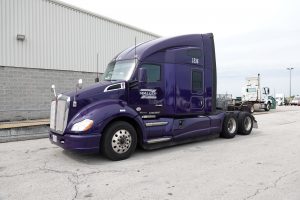 Benefits Of Our Kenworth T680 Fleet
There are a lot of great features, technology, and benefits that come with our advanced fleet of Kenworth T680s tractors. One of the big benefits that came with these trucks was the new Driver Performance Center that displays real-time data to the driver.
The data provides you with fuel tracking and other data to achieve some of the highest levels of performance for our drivers. The diagnostics not only make it easier for our drivers to find that sweet spot of efficiency but also provide alerts to increase safety for our drivers while on the road.
Driver comfort is also a top priority at Waller. We know that having a well-rested driver maximizes safety which is why our T680s have a 76-inch sleeper in them. Other brands will typically cap out around 72 inches which lessens the sleeping area you have available (which is especially important for our tall drivers).
Our Kenworth trucks also have other creature comforts like a full swivel table that allows a working space when needed or more standing room when not in use. The LED lighting was even given a lot of attention when planning to maximize lighting on the table or even over the bed when needed.
We know that having a quality fleet maximizes our driver's satisfaction and their performance which is why we take pride in our vehicles. Join the Waller Truck team and check out our available fleet today!