Summer Driving Tips
Everyone talks about the dangers of winter driving, but at Waller Truck Co. we know summer driving can be just as dangerous. During the warmest months of the year, drivers need to take different precautions. Let's discuss a few.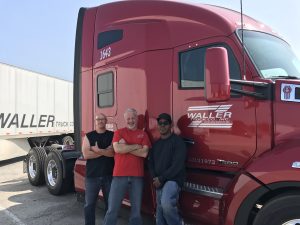 Pre-Trip Inspection
Before you hit the road, there are a few vulnerable areas on your vehicle that you need to keep an eye on:
Check engine belt.
Check tire pressure. Fluctuations in outside temperature change the pressure in your tires. Underinflated tires overheat faster and can cause a blowout.
Brakes are also affected by high temperatures and can wear out faster. Check the brakes throughout the summer, especially if you're putting a lot of miles on your truck.
Check the oil.
Maintain engine fluid levels and don't forget to check the coolant!
Drink Up
We can't emphasize enough how important it is to stay hydrated. Keep extra water on hand at all times and be sure to drink it! Staying hydrated will help keep you in top shape mentally and physically.
Even though your cab is air-conditioned you can still get dehydrated. Drink at least 64 ounces of water a day, which is approximately equal to 4 standard water bottles you can pick up at a gas station. Consume more if it's extremely hot, you're helping with unloading and/or performing other physical activities.
In the south there's the saying, "It's not the heat, it's the humidity." But when it's 90 degrees outside with 90% humidity you need to slow your activity to avoid overheating. Stay conscious of how you feel, because overheating can lead to dehydration or even heat stroke. If you have a headache and start to feel nauseous find some shade or an air-conditioned space and take a break.
Sunburn
Once you notice a sunburn or windburn  it's already too late. If you enjoy driving with the window down and your left arm up on the door ledge, ensure you have applied sunscreen with SPF 30 before you get in the truck.
It's easy to think that if you're in a truck you're protected from the sun. This isn't always true; even inside the cabin you need to wear sunscreen. Sounds weird, right? But remember, windows surround you and UV rays can penetrate glass. Don't forget to add a hat and sunglasses to your summer wardrobe, either! They can really save you a headache on especially sunny days.
Family Vacations
During summer months, children are out of school and families hit the road to enjoy vacation time. As a truck driver you need to keep this in mind. Warmer weather will mean more kids playing outside and more drivers on the road.
Often parents are distracted while driving. They may be lost, or just taking their time looking at the sights or talking on the phone, totally oblivious to what's going on around them. Be extra aware at these times and drive defensively.
Watch Out for Animals
When the weather is warmer and rain has not been plentiful, know that wildlife is out and about looking for food and water. This increases the potential for animal-related accidents. We want every traveler, including animals, to make it to their destinations safely.
Construction Obstructions
Summer is the busiest time for road construction across America, so slow down and watch out for construction workers and stopped traffic.
Be aware of construction along interstates, reduce your speed in work zones to avoid monetary fines, and pull out an extra large bag of patience.
Weather the Summer Weather
Just like winter, summer has its own severe weather. Be prepared for thunderstorms, flooding, tornadoes, hurricanes, and more depending on where you are in the US. Because weather can change quickly, stay aware of conditions at all times so you're never caught off guard. Also, if the weather is especially treacherous, you can change your route ahead of time to miss the inclement weather if at all possible.
Another issue you may encounter is high winds, which can happen in summer and winter. High winds can be very dangerous, since large trucks are more affected by wind than other vehicles. If a big rig is hit by a heavy gust of wind it can be hard for a driver to get the truck back under control. Keep both hands on the wheel and drive with careful motions to keep your rig straight and steady against the wind.
At Waller Truck Co., we appreciate our drivers and want them and everyone around them to be safe this summer and all year round. We're hiring now and give our drivers:
Competitive salaries
Insurance benefits including medical, dental, and vision
More time at home
Mostly no touch, drop and hook loads
2015 and younger Kenworth T680s
All trucks maintained by a maintenance company
Give us a call today toll free 1-800-635-9828 or check us out here to apply. We look forward to hearing from you.