Millennial Drivers
Millennials and Trucks
There have been a slew of millennial-blaming blog posts written in recent years. These post accuse millennials of everything from killing chain restaurants to the diamond industry and preferring avocado toast over dedication to their jobs. Our own observations of millennials in the workforce imply, however, that these young employees aren't lazy and entitled at all (no matter what the media says). This is great news for the transport industry, especially as its older employee demographic heads into retirement.
Who Are Millennials?
Many seem confused by the term "millennial," and rightly so. Are they everyone born in the new millennia? Or just before? Who counts as a millennial?
Millennials are often described as people born between 1985 and 1997, and are just coming into the work force from college, trade school, or high school. These individuals, contrary to popular belief, are no longer children; they are 21 to 33. They grew up under the shadow of 9/11 and the Great Recession, and were the last generation to develop without the flood of technology we have today.
A Millennial Driver at Waller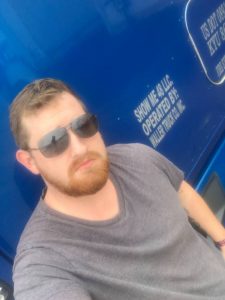 Scott Flameling, a 26 year old driver, hauls freight as a lease operator for Waller Truck. Born in 1991, Flameling falls into both the millennial and driver categories and wouldn't change a thing.
"I grew up in it," Flameling said of trucking. "My dad owned a small company. It was always something I wanted to do."
However, Flameling wasn't always driving. "I was in public service," he said. "I was a firefighter before. When I was 21 I decided to [try driving] for about a year and just fell in love with it. It's been almost six years now."
Why did Flameling choose Waller? "Because it was convenient," he said. "I live about four hours away [from the terminal] and they do a great job of getting me home almost every weekend. They're good, down-to-earth people."
Flameling thinks that a common draw to trucking for millennials is the promise of being on the go. "I get paid to travel! It's pretty cool," he said. A common desire for millennials is to see the world, and Flameling believes that driving is the best way to do it.
Driving isn't the only way for millennials to get into trucking. The industry is full of office positions like dispatching, safety protocol and customer service, as well as sales and marketing roles. The industry is ripe with opportunity for young people and remains one of the last great frontiers for emerging professionals.
If a job at Waller Truck Co., Inc (OTR, lease/owner operator, and RDC driving positions available!) sounds like your idea of fun, hurry and apply today!