Customer First Award Winner, Sheri Luehrs
Customer First Award Winner, Sheri Luehrs
Sheri Luehrs Wins Customer First Award
During the 2018 True Value Core Carrier Conference, Sheri Luehrs received the award Customer First by the organization. The True Value Executive Team, along with the Operations Members, were in attendance and spoke of Sheri's Customer Service dedication and work ethic.
Sheri's Background
Sheri Luehrs is the Senior Customer Service Manager for Waller Truck Co., Inc. Her coworkers describer her as dedicated and attentive, a hard worker who will do her absolute best to see an issue through to completion.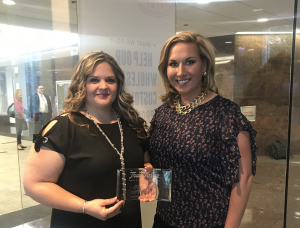 Praise for Sheri
The True Value and Schneider Transportation team also had excellent things to say about Sheri. Here's some of that glowing praise:
"Sheri has an amazing attitude towards everyone."
"She goes above and beyond to have everything run as smoothly as possible from cradle to grave."
"Sheri is great with her communication, both on the phone and email."
"Instead of just saying no, she always provides options."
"Sheri makes everyone feel that you have all her attention for whatever is needed."
"Together we were able to work with the vendor and buyers to resolve quickly and avoid conflict between driver and vendor."
"Sheri always responds to emails whether she can help or not."
"She responds very quickly and always follows up to make sure everyone is on the same page."
"She will update concerns to us and the vendor before they become an issue."
Sheri is an amazing asset to the Waller team. We appreciate her and all she does for the company, and look forward to many more years with her on board.