2019 Kenworth T680s and Predictive Cruise Control
2019 Kenworth T680s and Predictive Cruise Control
We at Waller are preparing to bring in our newest fleet of trucks! We've received two trucks so far, which our shop is currently installing APUs and Qualcomms in. Soon they will sport our logo and driver names!
But before we get into the nitty gritty of passing out trucks, there are a few new features of the 2019 Kenworth T680 to cover.
The new Kenworth trucks will have the Predictive Cruise Control system, which is the new standard. This technology will be included in all future trucks, starting with the most recent 2019 T680 road truck model.
The Predictive Cruise Control uses GPS along with cruise control, which will improve fuel savings and cruising speed efficiency. The GPS analyzes the road and terrain, which allows it to respond more accurately. This GPS ability could let the truck use its momentum or allow the vehicle to run under speed to improve miles per gallon ratings.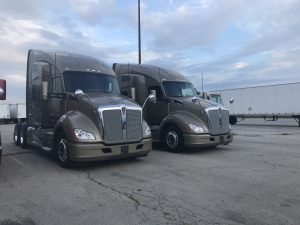 Kurt Swihart, Kenworth's marketing director, explained how this feature contributes to savings for drivers and companies alike.
Swihart said, "The T680, equipped with Kenworth Predictive Cruise Control system, now provides opportunities for enhanced driveability and fuel economy through the fine-tuning of the engine's modulation of speed and torque over a variety of actual driving conditions."
The huge advances and benefits of this technology led Kenworth to include it in every future T680 road truck model. Kenworth built its new Predictive Cruise Control system into the PACCAR Powertrain. The new cruise control technology, together with the Powertrain, allows for predictive shifting. The shifting operates based on engine torque, throttle, grade position and truck weight.
To try out one of the new Kenworth trucks (and experience the new cruise technology for yourself!) apply now at drive.wallertruck.com. We'll have a 2019 Kenworth T680 waiting for you!